As Spring approaches we can report that it's been a busy start to 2019 and we've once again been so privileged to be able to help local individuals and families who are struggling to make ends meet and put food on the table.
LOCAL SCOUTS LEND A HAND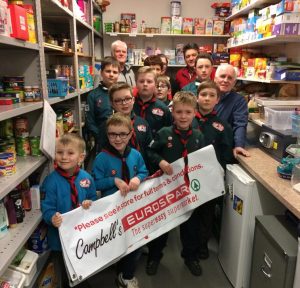 Storehouse was helped by the Scouts, Explorers, Cubs and Beavers from Banbridge district who donated money and then used this to buy food  for  Storehouse.  The boys visited the foodbank and enjoyed learning about how it operated.   We are very grateful to everyone for their kindness and generosity.
WHY I BECAME INVOLVED IN STOREHOUSE
One volunteer shares her motivation in helping with Storehouse:
"Having first of all been a HomeStart volunteer, T had seen firsthand the real (and mostly hidden) need of local families. What continues to strike me is just how close to the breadline most of us live. It is deeply rewarding to hand over food to a family and know that for the next few days at least, you have removed one thing from their list of things to worry about. Storehouse offers all users the opportunity to sit down over a tea or coffee and have a chat and share their burden. To know how much people are in need requires us to get to know people!"
Are your hearts tender and sympathetic?" Philippians 2 vs1, then "Don't think only about your own affairs, but be interested in others too, and what they are doing" vs4
STOREHOUSE USAGE – January to March 2019
Number of parcels distributed per month
Family
2 people
1 person
Total
January
12
5
14
31
February
16
13
11
40
CHRISTMAS HAMPERS
Christmas hampers given out 2018 – there were 98 in total
Who they went to:
6 x Grace Generation, 2  xEmbrace, 1 x Ballydown PC, 3 x Holy Trinity Church, 4 x Methodist Church
7 x to the Syrian families in Banbridge
15 via the Elim Church to be distributed through Rhythm
23 x to foodbank clients
13 x to Social Workers in Trasna House in Lurgan
13 x o Homestart
7 x to the 14+ social work team
4 via individuals
Types of households:
One person – 18
Two people – 11
Families – 69
STOREHOUSE CURRENTLY ITEMS NEEDED
Donations are particularly welcome of the following food items:
tinned tuna
dried rice
tinned rice
jam
tinned potatoes
tinned fruit
tinned carrots or sweetcorn