In 2016 I was asked to teach English to some of the new Syrian refugee arrivals in Banbridge. It was at a time when there was a lot of negative press regarding the numbers of refugees coming into Europe. Consequently, I wondered whether or not I should get involved. The compassion in my heart eventually broke through.

I went along to teach – as I was soon to find out – not just the children, but everyone from the toddler to the granny! From a teaching point of view it was bedlam. I therefore recruited a lovely friend to help me and she taught the pre schoolers whilst I concentrated on everyone else. The routine developed into twice a week for six weeks before school started in September. During that time we grew to love these families. It was our joy to be able to help them with their resettlement in our country. We learnt very quickly what a gracious people they were.
In spite of their desperate stories there was no sense of entitlement, or a victim mentality. They were here at the invitation of our government and wanted to be productive members of our society.
Getting jobs as soon as possible was a priority. Of course at this stage their English was not sufficient, so some of them chose to volunteer where ever possible, in order to improve their English. They are all attending English classes in the regional colleges in Newry and Lurgan. However there was nothing in Banbridge and they asked me to find something suitable there as once a week at college was not enough -they required more.
I have pulled together some friends from the churches in Banbridge to help me run a conversational English class once a week, as well as teachers for more formal weekly lessons. But it has become organic and people are coming from all over Banbridge to help. It has been wonderful to see families in Banbridge becoming friends of these Syrian families. They visit them regularly, take them on outings, have them over for meals and generally help them integrate into our Banbridge society. One local family invited their new Syrian friends for Christmas dinner and have done much to make them feel at home here. 
One Syrian mother & mathematics graduate living in Banbridge recently said: "We are grateful as we've found people here really helped us when we were in need, with learning English and settling into life here. I am so happy as my daughter's teachers have been very kind to me, helping me to understand what she is doing at school. I was worried as she only spoke Arabic and didn't have any friends, but now she speaks good English and has been made very welcome by other children."
The Syrian families all arrived in Northern Ireland with nothing. Most of them have been forced out of their country, their beautiful homes, their lucrative jobs and away from their families – they have lost everything, literally everything. I wonder how I would have coped with such a situation. With that in mind it has been a delightful thing to see how the Banbridge people have gone out of their way to be hospitable. Isn't that so Northern Irish?!!
It is important to me that if we want strangers to settle well in our country it's incumbent upon us to teach them our culture from the beginning. I have seen in these families a great willingness to embrace our culture, but in the absence of modelling they can only live in the way they know.
These are a people who are gracious, honest and who are very respectful and a joy and privilege to know. It has been a very fulfilling and rewarding experience helping them. 
As more families continue to arrive, we are keen to maintain and develop the support network which we have established. I would therefore be thrilled to hear from anyone interested in helping out at our weekly Wednesday chats or able to help out with other practical aspects of support. Please get in touch via info@gracegeneration.co.uk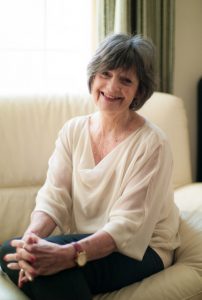 Ros Osman