With Summer typically being a season where many of us enjoy time off work, relaxing with friends and family, we are acutely aware that for many people it can be a lonely time, with longer days feeling emptier as regular activities stop for a few weeks. We didn't want that to be the case at Grace Generation and our Rise programme was designed to ensure that church family and others had plenty of opportunities to connect over the holiday period. We are delighted that it has been a resounding success and are so thankful to everyone who volunteered to ensure that the various events ran so well. Here are just a few highlights!
Football Mania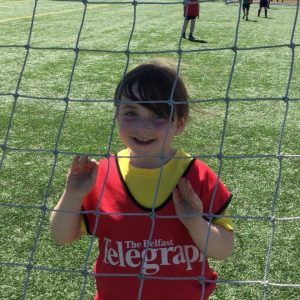 With World Cup fever at it's peak, sixty kids met for a week of football, games and bible stories at the beginning of July. Despite soaring temperatures, competition was lively and the leaders (including Pastor Paul) resurrected a few former football moves. However, telling the kids about God's love and seeing ten of them choose to accept Jesus as their Saviour was the best part of the week for the leaders. Claire said
It was amazing to hear the kids singing "I'm a child of God, yes I am" as we walked the journey to and from Cheney Park
Souled Out Youth week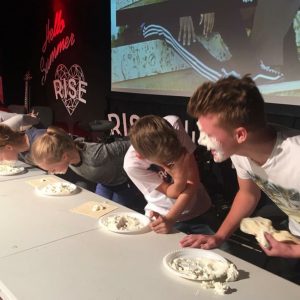 Lock-ins, bowling, beach bbqs, amusements and lots more were part of the jam-packed week of fun and banter enjoyed by over thirty young people mid July. Being off school IS amazing yes, but for parents it can mean worrying about the significant number of hours that their teens spend on phones or gaming… Souled Out Week was about fun in bucketloads and it also enabled the young people to have space and freedom to chat about their faith and the different issues which they face. Madison one of the young people said
I loved getting to stay up all night at church after our trip to Newcastle and bbq.
Community Fun Night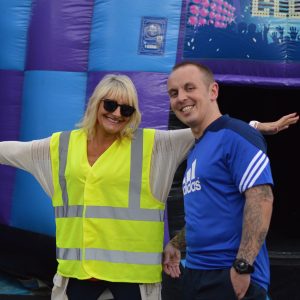 Following a week of hiphop dance at Grace Generation from Karisma Dance Academy, the dance showcase was a perfect occasion to host our annual Community Fun Night. Continuing the football theme, Dave Wilton the legendary former goalkeeper from Banbridge, challenged anyone brave enough to take him on at penalty shoot outs! – There were a couple of very willing contenders! Visitors enjoyed top notch burgers from Gary McCauley & team and music, face-painting and a beautiful balmy summer evening guaranteed a great time for everyone. As Pastor Helen says – "it's better together' and this was the clear vibe of the event.
Time Lab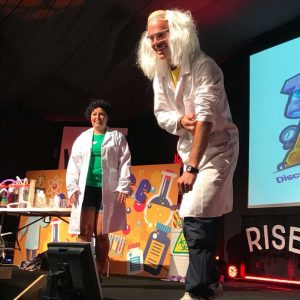 Think Back to the Future meets Johnny Ball and you might get a little idea of the crazy Professors aka John Emerson and Lara Anderson who mesmerised, entertained and enthralled the brilliant kids who pitched up each evening for Time Lab earlier in August! With fast-paced music, puns and games, the kids had a blast, especially with the exciting task of nominating a leader for the Big Gunge! But amidst the fun, many kids were captivated not just by the games and drama but by Jesus and the knowledge that He loves each of them, just as they are.
Renew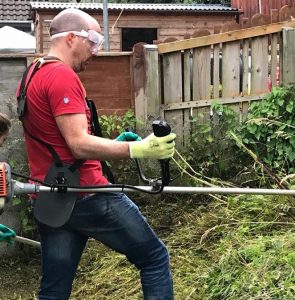 Local resident: "How much do you all get paid for doing these jobs?" Elaine from our Renew Team: "Nothing"                           Local resident " Why do you do it then? "  Elaine:
Because we care. Because we want to.
During Renew Week in August, twelve gardens were transformed, cut, weeded, tidied and other odd jobs were completed for members of our community, who for one reason or another found it tricky to keep on top of some of the manual tasks which most of us attend to with little bother.
As indicated by the lady chatting to Elaine, the reality that kindness would be extended at no cost was an alien concept, sadly a reflection of the busy lives we lead, sadly often with little time available for others. It was a privilege from start to finish to be able to reach out and make a little but tangible difference to some of our neighbours lives and wellbeing. Surely that's what it's all about.