Compassion is an international Christian child development and child advocacy ministry that works around the world through Child Sponsorship to give children the opportunity to break free from the chains of poverty, enabling them to receive education, healthcare, food, clothing and the opportunity to learn about Jesus.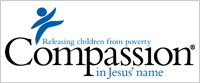 Partnering with local churches, Compassion are committed to the spiritual, economic, social and physical development of children living in extreme poverty in 26 countries, enabling them to become responsible, fulfilled Christian adults.
The church is God's chosen instrument to bring hope to a hurting world and to deliver justice to the poor and oppressed. That's why Compassion works exclusively in partnership with over 5,000 local churches in developing nations to deliver a holistic child development programme.
A Compassion Church Partnership is a lasting personal relationship between a church in the UK, Compassion and one or more churches in a developing community, together seeking justice for children in poverty.
The principles of Compassion Partnership are:
Partners recognise their equality in Christ
Partners develop mutually respectful and beneficial relationships
Partners accept mutual responsibility and commitment
Partners desire visible transformation
Grace Generation is honoured to partner with Compassion UK through Child Sponsorship and the Compassion Church Partnership.